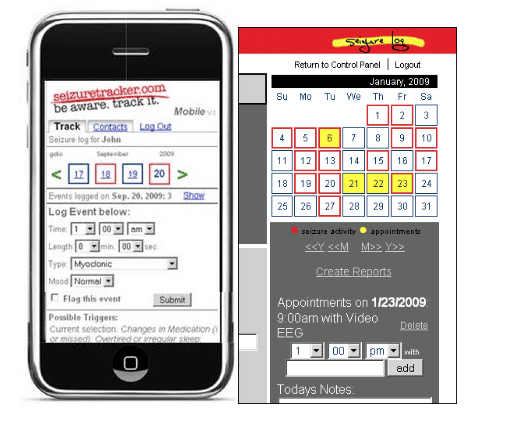 Some people with epilepsy use a seizure diary to keep track of when their seizures happen, to see if their seizures change in frequency or length of time. If their seizures do change, it might be helpful for them to have their epilepsy reviewed by their doctor.
There are a number of smartphone apps that contains seizure management tools, including a seizure diary to help monitor triggers. It is available on both iPhone and Android phones. Download it now. Alternatively download a PDF seizure diary or get a printed seizure diary from our shop.
There are a number of smart phone apps that  can  be utilized to track seizures  that  include:
Epilepsy Society Smartphone
Young Epilepsy
Seizure Tracker
EpDetect
Track It
My Epilepsy Diary
Seizure Disorder Coach
The Epilepsy Foundation provides recording forms that are highly recommended for use in both residential care facilities and day programs.
My Seizure Plan
Seizure Action Plan
Seizure Event Calendar
Seizure Description Form
Tips Seizure Observation Recording