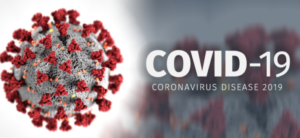 Within days of Chinese scientists' sharing the genetic sequence of the virus on January 11, 2020, scientists around the globe developed lab tests to diagnose COVID-19. Current diagnostic supplies were insufficient to meet global demand, however. While trying to increase supply of these tests, developers were also trying to create faster, cheaper, and more easily administered tests. No specific treatments or vaccines for COVID-19 exist. The U.S. National Institutes of Health (NIH) indicated in late January that a candidate vaccine for COVID-19 could be ready for early-stage human testing in spring 2020.
March 5, 2020
China's Experience
China's government first reported cases of pneumonia of an unknown cause to WHO on December 31, 2019, but did not raise the alarm to its own people until January 20. Observers have suggested that by withholding information, the government may have squandered an early window of opportunity to stem the virus's spread.
After January 20, Chinese authorities began taking aggressive actions to prevent the virus from spreading further, including imposing controversial cordons sanitaires, or restrictions on movement in and out of defined areas, on as many as 760 million people.
Reported infections "peaked and plateaued" in China between January 23 and January 27, and have been declining since then, except for a spike on February 1, according to the report of a WHO-China Joint Mission that investigated the outbreak in China. The mission included representatives from NIH and the U.S. Centers for Disease Control and Prevention (CDC). Bruce Aylward, the mission's Canadian co-team leader, said that the key to China's apparent success in changing the course of the epidemic was not the lockdowns. Instead, it was painstaking implementation of traditional public health measures: finding cases, isolating them, and tracing their close contacts, plus suspension of public gatherings.
WHO Response
World Health Organization Declares Coronavirus a Global Health Emergency
Jan 30, 2020
2 minutes
On January 30, 2020, WHO Director-General Tedros declared a Public Health Emergency of International Concern (PHEIC), prompting countries to take specific actions, including heightening surveillance and reporting of the disease. In the case of the United States, Department of Health and Human Services (HHS) Secretary Alex Azar declared "a public health emergency for the entire United States." A PHEIC declaration can prompt countries to provide additional resources for global and domestic response and enable WHO to access certain emergency funding, such as from the United Nations Central Emergency Response Fund (CERF) and the World Bank Pandemic Emergency Financing Facility (PEF).
Pandemic Designation Debate
Some observers questioned why WHO had not yet labeled the global COVID-19 outbreak a pandemic. On February 26, Tedros defended WHO's caution, arguing, "For the moment, we are not witnessing sustained and intensive community transmission of this virus, and we are not witnessing large-scale severe disease or death."
WHO Funds
On February 5, WHO announced a $675 million COVID-19 preparedness plan for February through April. The aim was to provide international coordination and operational support, bolster country readiness and response capacity—particularly in low-resource countries—and accelerate relevant research and innovation. As of March 4, donors had pledged to provide $289 million.
Appeal on Personal Protective Equipment
WHO highlighted a global shortage of personal protective equipment for health care workers, estimating a 40 percent production surge would be necessary to meet demand. Tedros urged industry and governments to "act quickly to boost supply, ease export restrictions, and put measures in place to stop speculation and hoarding."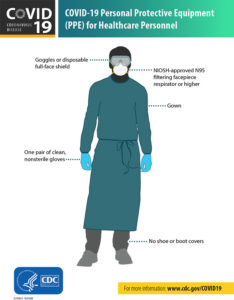 COVID-19: Global Implications and Responses
U.S. Response
On January 29, President Donald J. Trump announced the formation of the President's Coronavirus Task Force, led by the Department of Health & Human Services (HHS) and coordinated by the National Security Council. On February 27, the President appointed Vice President Mike Pence as the Administration's COVID-19 task force leader, and the Vice President subsequently appointed President's Emergency Plan for AIDS Relief (PEPFAR) Ambassador Deborah Birx as the "White House Coronavirus Response Coordinator."
The Department of State and the U.S. Agency for International Development (USAID) committed to use up to $100 million of existing funds to assist China and other affected countries "to contain and combat" COVID-19. HHS made available up to $105 million from the Infectious Disease Rapid Response Reserve Fund for domestic and international COVID-19 responses.
In late February, the Administration announced the committed funds would be exhausted by the end of the month. On February 24, the Administration asked Congress for an emergency supplemental appropriation of $1.25 billion for COVID-19 response efforts, and to allow repurposing of another $1.25 billion in existing funds from across the government, including HHS funds for current Ebola response activities.
On March 4, the House passed H.R. 6074, which would provide $8.3 billion in emergency supplemental appropriations for COVID-19 preparedness and response. This includes $300 million to continue CDC's global health security programs (global disease detection and emergency response) and $1.25 billion for various Department of State and USAID accounts. USAID's bilateral global health programs would receive $435 million—including at least $200 million for the Emergency Reserve Fund—to prevent, prepare for, and respond to COVID-19. The Senate passed the bill March 5, with the president expected to sign it.
Travel Issues and Evacuations
Trump Expands Travel Restrictions After U.S. COVID-19 Death
February 29, 2020
2.10 minutes
The president issued two proclamations suspending the entry into the United States of most foreign nationals who have been in mainland China (effective February 2) or Iran (effective March 2) within the prior 14 days. On February 2, the Department of Homeland Security issued instructions subjecting returning U.S. citizens with travel to China's Hubei Province in the prior 14 days to mandatory quarantine of up to 14 days.
The U.S. government arranged charter flights to repatriate U.S. citizens and permanent residents from Wuhan and the Diamond Princess cruise ship off Japan. CDC has elevated its travel warning for China, Iran, Italy, and South Korea to the highest level (Level 3, "Avoid nonessential travel"). The State Department has raised its travel advisory for China to the highest level (Level 4, "Do not travel"), added a COVID-19 caution to its existing Level 4 advisory for Iran, and raised its advisories for Italy and South Korea to Level 3 ("Reconsider travel").
Could Singapore be the Model for COVID-19 Response?
March 5, 2020
Singapore has many imported cases and high population density, yet virtually no community spread. Could Singapore's response to the novel coronavirus guide the U.S.'s own actions?
Former FDA Commissioner Scott Gottlieb, MD, congratulated Singapore on its "exquisite reporting" of COVID-19 cases. And a preprint of a Harvard study, published in medRxiv, characterized Singapore's "strong epidemiological surveillance and contact tracing" as the "gold standard."
Michael Osterholm, PhD, MPH, director of the Center for Infectious Disease Research and Policy at the University of Minnesota, called Singapore's response "the model to emulate" in the New York Times last week.
Even CDC Director Robert Redfield applauded the city-nation for its "aggressive containment strategy" and "aggressive case findings."
Asked what Singapore had gotten right, Redfield said, "it's early diagnosis, isolation, contact tracing, and some very targeted mitigation steps" that included closing schools in areas with high case load.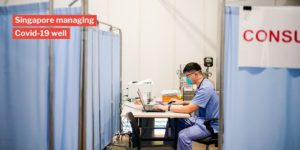 Not every country has to succumb to the "accelerated expansion" of the virus as Korea, Italy, and Iran have, he said.
Redfield said the experience in those countries shows it is indeed possible to lose control of the situation. But Hong Kong and Singapore serve as counterexamples, "where they've had a lot of imported cases" but with "an effective public health response" to contain them.
Asked whether the U.S. could replicate their approach, Redfield said, "That's our plan," but it all depends on early case recognition."
Osterholm also stressed the importance of "extensive contact follow-up."
With each new case in Singapore, public health officials look for the contacts of that individual to see if they're infected and "then you keep going to the next level, the contacts of the contacts, if they're infected."
But it's a labor-intensive process, he said. Given that the U.S. population dwarfs Singapore's, he said it is "not practical" to think those contact tracing capabilities could be replicated here.
Talking to the Public
One area where the U.S. can follow Singapore's lead is through communication and public education, Osterholm said. Singapore's government officials have been "straightforward" about what could happen if the virus begins to spread in the community. "They've had lots of transparency, they've been very proactive and they've not tried to minimize it," Osterholm said. People need to hear "in stark terms" what could happen next, he said.
While there are those who believe troubling information "makes people freak out or panic," Osterholm said, "there's really no evidence to that at all." People just want to know fair and accurate information, and then "they don't freak out," he said. "What we need to do is to basically be able to share the news of what we know and don't know, but then tell people what are we going to do about it, how are we going to respond," Osterholm said. "And that's what they're doing in Singapore."
The other thing that separates the U.S. and Singapore is the ability to have a unified response. In the U.S., policy and science officials' message has been "pretty much all over the board," said Osterholm.
On Feb. 25, Nancy Messonnier, MD, director of the CDC's National Center for Immunization and Respiratory Diseases, told reporters community spread was expected: "It's not a question of 'if' anymore." That same day, Larry Kudlow, the president's chief economic adviser, told reporters that "we have contained this."
And President Trump said incorrectly that the number of cases was declining, and on multiple occasions that COVID-19 would "go away in April."
"We've got different messages coming out of federal government. We need a message," Osterholm said. "That's where Singapore's been different … They actually have been trying to provide a consistent message … there's no division between the prime minister and the minister of health, the local authorities, it's all basically been one message," he said.
Singapore's Response
Singapore Conducts Proactive Surveillance, Random Sampling to Detect COVID-19 Cases
February 18, 2020
0.47 minutes
Singapore, the tropical city-nation at the tip of the Malaysian peninsula, has a population of about 5.7 million. As of March 4, the city-nation had 112 cases of coronavirus.
In early January, only a few days after the WHO announced a cluster of pneumonia cases in Wuhan, China, Singapore began temperature screenings at airports, and by mid-January it had launched a multi-ministry task force to address the virus.
"While we hope for the best, we must plan for the worst," Gan Kim Yong, Singapore's health minister, told other government officials in a Feb. 3 speech.
He explained that masks were to be used by those who are sick to prevent others from catching the virus. Those who are healthy should focus on washing their hands and avoid touching their faces.
Yong drew on Singaporeans' sense of moral and civic duty: "All of us must play our part and exercise social responsibility, to prevent or to curb the potential spread of the virus in the community."
"Here I want to reiterate the government's firm commitment that we will spare no efforts in protecting our people. We will act swiftly and share information on the novel coronavirus openly and as soon as possible," he said.
In a video press release on Feb. 8, Prime Minister Lee Hsien Loong also addressed his citizens. He reassured viewers that Singapore had learned a lot from SARS. "We know that we can get through this too," he said. He explained the differences between SARS and coronavirus — coronavirus is "harder to stop" but much "less deadly." He said the new coronavirus's mortality rate was 0.2 percent outside of the Wuhan area (it later became much higher), compared to the 0.01 percent from seasonal flu and the 10 percent fatality rate with SARS.
Loong described some of the measures already being taken to prevent the virus's spread. In addition to isolating confirmed cases and quarantining their contacts, the government called for "reducing mingling in schools," tightening access to hospitals, and taking extra precautions during large public events.
He acknowledged that if the number of cases continue to grow and the virus becomes more widespread, "we will have to reconsider our strategy."
It may be that the government would direct those with only mild cases to visit their general practitioner so that hospitals remain available for the more severely ill patients.
"I'm sharing these possibilities with you so that we are all mentally prepared for what may come," he said.
In closing, he told Singaporeans to take "sensible precautions" and urged them to "stay calm and carry on with our lives."
Public Alerts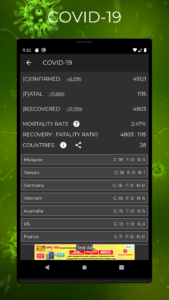 Singaporeans can subscribe to WhatsApp updates from the Ministry of Health or find them on the ministry's website. These updates summarize the current situation in the country and usually clarify whether any new case is of unknown origin or if it's linked to a previous cluster.
The government also issues updates by WhatsApp and a press release on "entry approvals" for individuals wishing to return to Singapore from affected countries, travel advisories, and guidelines on swab tests at checkpoints. These come with warnings about prosecution for those who don't comply with testing, as well as on contact tracing scams.
Yong, the health minister, told Singapore's parliament on March 5 that the country still faces a major threat from COVID-19 and the situation may get worse. He noted the spread outside China. "This is worrying, as they pose a high risk of importation of cases into Singapore," he said. "Even among our closest neighbors, the situation is also evolving. Therefore, it is likely that this disease will stay with us for a long time." Yong also said border controls will probably lose their effectiveness soon: "We cannot ban visitors from every country and shut ourselves out from the world."
Enforcing Quarantine, Finding a Single Voice
The U.S. has already borrowed from Singapore's playbook in certain respects, ramping up testing, implementing "social distancing," and at-home quarantines. But Singapore is often described as a police state, albeit a relatively gentle one, and some of its threats would be less credible in the U.S.: jail for those who violate their fourteen-day quarantine rules, fines for providing false information to government agents.
Lawrence Gostin, JD, who holds appointments at Georgetown University School of Medicine and Johns Hopkins University, said it was "unlikely" that U.S. health officials would … impose penalties for non-compliance with quarantine and isolation protocols. While containment strategies such as school closures will probably increase, "the U.S. will try to do most of its social distancing through voluntary measures" and "only rarely use coercive measures like mandatory quarantines," he predicted.
On the communications front, it appears the Trump administration, or at least HHS, listened to the advice of experts like Osterholm and attempted to speak with one voice. At a hearing on coronavirus in the Senate, Health, Education, Labor and Pensions Committee, witnesses from different arms of HHS — the FDA, CDC, the National Institutes of Health, and the Office of the Assistant Secretary for Preparedness and Response — submitted a single document as written testimony for all four witnesses. And in a speech, Vice President Pence described the "whole-of-government" approach "deployed" by President Trump in response to coronavirus, perhaps channeling Yong's speech which described Singapore's own "whole-of-government" strategy.
What are public officials doing to contain the virus?
How Coronavirus Test Kits Work | WSJ
February 26, 2020
3.37 minutes
The CDC worked with states to expand testing for the virus. In addition to testing people who had symptoms and had recently traveled to areas where the infection was spreading, like China, Italy, and Japan, the CDC also began testing people with pneumonia that isn't caused by the flu through it's influenza-like illness surveillance network. Nancy Missioners, MD, director of the CDC's Center for the National Center for Immunization and Respiratory Diseases, said they wanted to "rapidly expand" the testing to all fifty states. Previously, the agency would only accept a test if the patient had traveled to China or had close contact with someone who had been there.
However, a shortage of specialized equipment to protect health care workers threatened the official coronavirus response. The WHO said that supplies of personal protective equipment — the gowns, masks, and goggles that health care workers wear to protect themselves from getting sick — needed to be increased by 40 percent to meet the demand of COVID-19 infections around the world.
"We can't stop COVID-19 without protecting our health care workers," Tedros said. "Shortages are leaving doctors, nurses, and other front-line health workers dangerously ill-equipped to care for COVID-19 patients." Prices for remaining supplies spiked, Tedros said. The price of surgical masks more than tripled, and the cost of gowns doubled. Tedros said that market manipulation was widespread and stocks of these supplies were being sold to the highest bidder. He called on equipment manufacturers to urgently ramp up production to meet demand.
President Donald Trump announced that he was putting Vice President Mike Pence in charge of the U.S. response. In January, the U.S. declared the crisis a public health emergency and the WHO declared that the outbreak is a Public Health Emergency of International Concern, or PHEIC.
The U.S. banned any foreign visitors from China and Iran from entering the country. All U.S. citizens who had visited China's Hubei province in the previous fourteen days would face mandatory quarantine for fourteen days. Other visitors returning from China would be screened and asked to self-quarantine for fourteen days. Their movements would be monitored.
Planes carrying Americans out of China landed at one of four locations: Travis Air Force Base in Fairfield, CA, southwest of Sacramento, Marine Corps Air Station Miramar in San Diego, Lackland Air Force Base in San Antonio, TX, and Eppley Airfield in Omaha, NE. The CDC coordinated the quarantines. Camp Ashland in Nebraska was one of the military bases being tapped to provide temporary lodging support for people being evacuated from China to the U.S.
These were the first federal quarantine orders issued in fifty years, the last coming in the 1960s for smallpox evaluations, CDC officials said. Public health officials kept the 195 evacuees at March Air Reserve Base for fourteen days to monitor them for symptoms of the coronarvirus. None of them tested positive for the virus in that time, officials said, and they posed no health risk to the public.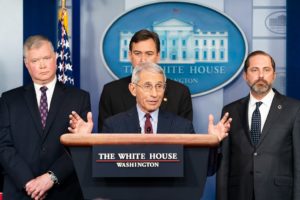 Anthony Fauci, MD, director of the National Institute of Allergy and Infectious Diseases, said the strict precautions were warranted because "the issue now with this is that there are a lot of unknowns." He pointed out that the number of cases "has steeply inclined each and every day." We now know for certain that a person without symptoms can transmit the disease, Fauci said.
Health officials also clarified the distinctions between isolation and quarantine. Isolation is used to keep a person who's already sick from infecting others. Quarantines restrict the movement of someone who has been exposed but is not yet sick.
The CDC urged people to prepare for spread of the coronavirus, warning that it was likely to become more common in the U.S. "Disruption to everyday life might be severe," Messonnier said. "It's not so much of a question of if this will happen in this country anymore but a question of when this will happen. "We are asking the American public to prepare for the expectation that this might be bad."
Which countries have travel restrictions?
The U.S. State Department advised against travel to China and Iran, issuing a Level 4 advisory. It also asked people to reconsider travel on any cruises that go to or within Asia.
The CDC also issued a Level 3 travel advisory for South Korea, Iran, and Italy, meaning people should avoid non-essential travel. There is a Level 2 travel advisory for Japan. Level 2 means that older people and people with chronic conditions should consider postponing non-essential travel. It issued a Level 1 advisory for Hong Kong. Level 1 means to use precautions during travel. Also, foreign nationals from China and Iran are temporarily banned from entering the U.S.
COVID-19 Designated as Pandemic
The following are WHO Director-General Dr. Tedros Adhanom Ghebreyesus' opening remarks at the media briefing on COVID-19 on March 11, 2020:
Good afternoon.
In the past two weeks, the number of cases of COVID-19 outside China has increased thirteen-fold, and the number of affected countries has tripled.
There are now more than 118,000 cases in 114 countries, and 4,291 people have lost their lives.
Thousands more are fighting for their lives in hospitals.
In the days and weeks ahead, we expect to see the number of cases, the number of deaths, and the number of affected countries climb even higher.
WHO has been assessing this outbreak around the clock and we are deeply concerned both by the alarming levels of spread and severity, and by the alarming levels of inaction.
We have therefore made the assessment that COVID-19 can be characterized as a pandemic.
Pandemic is not a word to use lightly or carelessly. It is a word that, if misused, can cause unreasonable fear, or unjustified acceptance that the fight is over, leading to unnecessary suffering and death.
Describing the situation as a pandemic does not change WHO's assessment of the threat posed by this virus. It doesn't change what WHO is doing, and it doesn't change what countries should do.
We have never before seen a pandemic sparked by a coronavirus. This is the first pandemic caused by a coronavirus.
And we have never before seen a pandemic that can be controlled, at the same time.
WHO has been in full response mode since we were notified of the first cases.
And we have called every day for countries to take urgent and aggressive action.
We have rung the alarm bell loud and clear.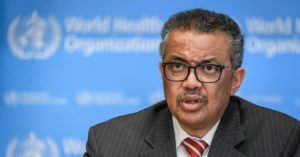 As I said on Monday, just looking at the number of cases and the number of countries affected does not tell the full story.
Of the 118,000 cases reported globally in 114 countries, more than 90 percent of cases are in just four countries, and two of those – China and the Republic of Korea – have significantly declining epidemics.
Eighty-one countries have not reported any cases, and fifty-seven countries have reported ten cases or less.
We cannot say this loudly enough, or clearly enough, or often enough: all countries can still change the course of this pandemic.
If countries detect, test, treat, isolate, trace, and mobilize their people in the response, those with a handful of cases can prevent those cases becoming clusters, and those clusters becoming community transmission.
Even those countries with community transmission or large clusters can turn the tide on this virus.
Several countries have demonstrated that this virus can be suppressed and controlled.
The challenge for many countries who are now dealing with large clusters or community transmission is not whether they can do the same – it's whether they will.
Some countries are struggling with a lack of capacity.
Some countries are struggling with a lack of resources.
Some countries are struggling with a lack of resolve.
We are grateful for the measures being taken in Iran, Italy, and the Republic of Korea to slow the virus and control their epidemics.
We know that these measures are taking a heavy toll on societies and economies, just as they did in China.
All countries must strike a fine balance between protecting health, minimizing economic and social disruption, and respecting human rights.
WHO's mandate is public health. But we're working with many partners across all sectors to mitigate the social and economic consequences of this pandemic.
This is not just a public health crisis, it is a crisis that will touch every sector – so every sector and every individual must be involved in the fight.
I have said from the beginning that countries must take a whole-of-government, whole-of-society approach, built around a comprehensive strategy to prevent infections, save lives, and minimize impact.
Let me summarize it in four key areas.
First, prepare and be ready.
Second, detect, protect, and treat.
Third, reduce transmission.
Fourth, innovate and learn.
I remind all countries that we are calling on you to activate and scale up your emergency response mechanisms;
Communicate with your people about the risks and how they can protect themselves – this is everybody's business;
Find, isolate, test, and treat every case and trace every contact;
Ready your hospitals;
Protect and train your health workers.
And let's all look out for each other, because we need each other.
There's been so much attention on one word.
Let me give you some other words that matter much more, and that are much more actionable.
Prevention.
Preparedness.
Public health.
Political leadership.
And most of all, people.
We're in this together, to do the right things with calm and protect the citizens of the world. It's doable.
I thank you.
Sources
Firth, Shannon. "Singapore: The Model for COVID-19 Response?" MedPage Today, 5 Mar. 2020, www.medpagetoday.com/infectiousdisease/covid19/85254.
"How Coronavirus Test Kits Work | WSJ." YouTube, uploaded by Wall Street Journal, 26 Feb. 2020, www.youtube.com/watch?v=tgyzdgf66eM.
"Singapore Conducts Proactive Surveillance, Random Sampling to Detect COVID-19 Cases." YouTube, uploaded by CNA, 18 Feb. 2020, www.youtube.com/watch?v=3eRK2Y5jBHk.
Tharakan, Sara M., et al."COVID-19: Global Implications and Responses." Congressional Research Service, 5 Mar. 2020, crsreports.congress.gov/product/pdf/IF/IF11421.
"Trump Expands Travel Restrictions After U.S. COVID-19 Death." YouTube, uploaded by CityNews Toronto, 29 Feb. 2020, www.youtube.com/watch?v=VEx5noA2-Hg.
WebMD News Staff. "Coronavirus 2020 Outbreak: Latest Updates." WebMD, 9 Mar. 2020, www.webmd.com/lung/news/20200124/coronavirus-2020-outbreak-latest-updates.
"WHO Director-General's opening remarks at the media briefing on COVID-19 – 11 March 2020." World Health Organization, 11 Mar. 2020, www.who.int/dg/speeches/detail/who-director-general-s-opening-remarks-at-the-media-briefing-on-covid-19—11-march-2020.
"World Health Organization Declares Coronavirus a Global Health Emergency." YouTube, uploaded by Guardian News, 30 Jan. 2020, www.youtube.com/watch?v=NeDeOxb4ofg.