March 20, 2020
There is no vaccine to prevent COVID-19, but you may able to reduce your risk of getting or spreading an infection by:
Washing hands often with soap and water for at least 20 seconds. If soap and water are not available, use an alcohol-based hand sanitizer with at least 60% alcohol.
Avoiding touching your face, nose, eyes, or mouth with unwashed hands.
Avoiding close contact with people who are sick.
Using a regular household cleaning spray or wipe to clean and disinfecting surfaces that you frequently touch.
Covering coughs and sneezes with a tissue. Then throw away the tissue and wash your hands.
Use a face mask if you have symptoms of COVID-19, so you can prevent spreading it to others. Face masks are recommended for people who are sick, and often to people in general, to help reduce spread of the contagion.
You treat a coronavirus infection the same way you treat a cold:
Get plenty of rest
Drink fluids
Take over-the-counter medicine for a sore throat and fever
A humidifier or steamy shower can also help ease a sore and scratchy throat.
Novel Coronavirus (2019-nCoV)
January 31, 2020
4.49 minutes
What Should I Do if I Think I Have Been Exposed to or Infected with COVID-19?
Alert your healthcare provider immediately if you think you may be infected with COVID-19, including if you have been exposed to someone with the virus and have signs/symptoms of infection. If you are experiencing symptoms, you should tell your healthcare provider about any recent travel to areas where COVID-19 is spreading. If you believe you have been exposed on the job, alert your supervisor or occupational health clinic immediately.
We need to be honest about the scale of the challenges ahead. There is a need for an integrated response, meaning a public health response that includes drugs and therapeutics, not just the development of vaccines – advice that was echoed by Richard Hatchett from the Coalition for Epidemic Preparedness (CEPI) in a prescient 2019 article.
In China the genetic makeup of the virus has not changed, which is a good sign for the chances of creating an effective vaccine that could be available within a year. In the meantime, we must be vigilant and prepared to control the spread. COVID-19 has the potential to spread widely, but at least it can be contained, as the situation in China suggests. In Africa the WHO has helped get forty labs in thirty-five countries set up to do testing (from zero before the outbreak) and this will help early detection and early control.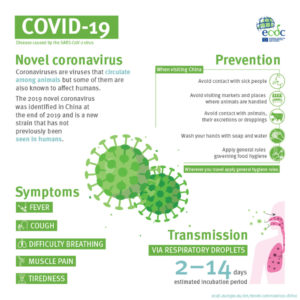 Control and Prevention at Work
Measures for protecting workers from exposure to, and infection with, the novel coronavirus, COVID-19, depend on the type of work being performed and exposure risk, including potential for interaction with infectious people and contamination of the work environment. Employers should adapt infection control strategies based on a thorough hazard assessment, using appropriate combinations of engineering and administrative controls, safe work practices, and personal protective equipment (PPE) to prevent worker exposures. Some OSHA standards that apply to preventing occupational exposure to COVID-19 also require employers to train workers on elements of infection prevention, including PPE.
OSHA has developed this interim guidance to help prevent worker exposure to COVID-19.
Regardless of specific exposure risks, following good hand hygiene practices can help workers stay healthy year round.
General Guidance for All U.S. Workers and Employers
The U.S. Centers for Disease Control and Prevention has developed interim guidance for businesses and employers to plan for and respond to COVID-19. The interim guidance is intended to help prevent workplace exposures to acute respiratory illnesses, including COVID-19. The guidance also addresses considerations that may help employers prepare for more widespread, community outbreaks of COVID-19. The guidance is intended for non-healthcare settings.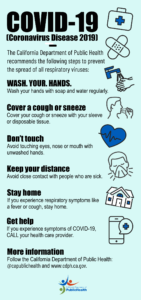 Interim Guidance for Most U.S. Workers and Employers of Workers Unlikely to Have Occupational Exposures to COVID-19
Employers and workers in operations where there is no specific exposure hazard should remain aware of the evolving outbreak situation. Changes in outbreak conditions may warrant additional precautions in some workplaces not currently highlighted in this guidance.
OSHA's infection prevention recommendations follow the hierarchy of controls, including using engineering and administrative controls and safe work practices to protect workers from exposure to COVID-19. Depending on work tasks and potential exposures, appropriate PPE for protecting workers from the virus may include gloves, gowns, masks, goggles or face shields, and/or respirators.
Interim Guidance for U.S. Workers and Employers of Workers with Potential Occupational Exposures to COVID-19
Workers and employers involved in healthcare, deathcare, laboratory, airline, border protection, and solid waste and wastewater management operations and international travel to areas with ongoing, person-to-person transmission of COVID-19 should remain aware of the evolving outbreak situation.
As discussed on the Hazard Recognition page, employers should assess the hazards to which their workers may be exposed; evaluate the risk of exposure; and select, implement, and ensure workers use controls to prevent exposure. Control measures may include a combination of engineering and administrative controls, safe work practices, and PPE.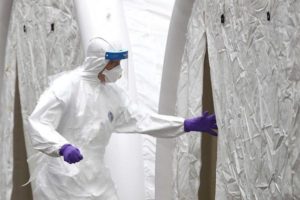 Identify and Isolate Suspected Cases
In all workplaces where exposure to the COVID-19 may occur, prompt identification and isolation of potentially infectious individuals is a critical first step in protecting workers, visitors, and others at the worksite.
Immediately isolate people suspected of having COVID-19. For example, move potentially infectious people to isolation rooms and close the doors. On an aircraft, move potentially infectious people to seats away from passengers and crew, if possible and without compromising aviation safety. In other worksites, move potentially infectious people to a location away from workers, customers, and other visitors.
Take steps to limit spread of the person's infectious respiratory secretions, including by providing them with a face mask and asking them to wear it, if they can tolerate doing so. Note: A surgical mask on a patient or other sick person should not be confused with PPE for a worker; the mask acts to contain potentially infectious respiratory secretions at the source (i.e., the person's nose and mouth).
If possible, isolate people suspected of having COVID-19 separately from those with confirmed cases of the virus to prevent further transmission, including in screening, triage, or healthcare facilities.
Restrict the number of personnel entering isolation areas, including the room of a patient with suspected/confirmed COVID-19.
Protect workers in close contact with the sick person by using additional engineering and administrative control, safe work practices and PPE. CDC defines "close contact" as being about six feet from an infected person or within the room or care area of an infected patient for a prolonged period while not wearing recommended PPE. Close contact also includes instances where there is direct contact with infectious secretions while not wearing recommended PPE. Close contact generally does not include brief interactions, such as walking past a person.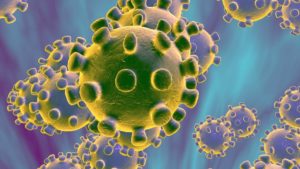 Environmental Decontamination
Do not use compressed air or water sprays to clean potentially contaminated surfaces, as these techniques may aerosolize infectious material.
Worker Training
Train all workers with reasonably anticipated occupational exposure to COVID-19 about the sources of exposure to the virus, the hazards associated with that exposure, and appropriate workplace protocols in place to prevent or reduce the likelihood of exposure. Training should include information about how to isolate individuals with suspected or confirmed COVID-19 or other infectious diseases, and how to report possible cases. Training must be offered during scheduled work times and at no cost to the employee.
Workers required to use PPE must be trained. This training includes when to use PPE; what PPE is necessary; how to properly put on, use, and take off PPE; how to properly dispose of or disinfect, inspect for damage, and maintain PPE; and the limitations of PPE. The OSHA website offers a variety of training videos on respiratory protection.
Reducing the Spread of COVID-19
How to Stop the Spread of Coronavirus
March 4, 2020
4.30 minutes
March 5, 2020
Cough into your elbow, not your hand. Or pull the collar of your T-shirt up to cover your mouth when coughing. That's the coughing advice from experts who seek to minimize risk of viral transmission. Keep your distance. And don't kiss. Those are two pieces of advice that could be crucial in reducing the spread of the coronavirus.
Public health officials say the spread has been mainly driven through people spending time indoors with others who have the disease. "Looks like the main driver is not widespread community infection — looks like it's household-level infection," Dr. Bruce Aylward, a senior adviser to the World Health Organization, said at a news conference in Geneva on Feb. 25. Indeed, data from China's cases show that most of the spread is happening among family members who live together.
Perhaps the reason that the virus spreads among family members is the way people become infected. "The main mode of transmission is respiratory droplets" that can be produced by speaking and coughing, says Dr. Adam Lauring, associate professor of microbiology and immunology at the University of Michigan. "These droplets then can find their way into the mouths, noses of other people nearby." Sneezing, another way droplets are spread, is not a common symptom of COVID-19, indicating that it's not usually an upper respiratory infection, Aylward said.
But spread isn't exclusively a family matter. The close contact that leads to infection can apply to a range of behaviors, says Seema Lakdawala, a virologist who studies flu transmission at the University of Pittsburgh. "You can do it through shaking hands or kissing somebody who is sick, or you can do it through indirect contact transmission, which is through a contaminated surface, something like a doorknob or a handrail … [or] you pick up somebody else's phone."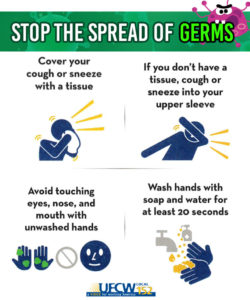 Researchers aren't sure how long droplets of the new coronavirus remain infectious on phones, but similar coronaviruses can survive on surfaces from a few hours up to a few days, depending on the environment, says the WHO. Spread takes place more readily if you're within coughing range of someone sick, "like if you're standing next to your kid and they cough in your face," says Lakdawala. You could breathe in the droplets. Or they may land on a surface that somebody then touches.
While there's no way for health authorities to regulate family interactions, steps can be taken to reduce the likelihood of close contact in crowds. The WHO says that social-distancing measures — as when China extended the national Lunar New Year holiday to keep people from traveling or working, closed offices, and canceled public transportation — helped slow the transmission of the disease there.
Researchers looking back at prior outbreaks, such as the 1957 flu pandemic and the 2003 SARS epidemic, found that public health policies that kept people from gathering in public spaces — such as closing schools and canceling big events — helped slow the spread of disease.
In the current outbreak, the evidence for the way the coronavirus has spread comes from analyzing case clusters in China. Findings were published on Feb. 28 in a report from the WHO-China joint mission. In mid-February, a team of international experts visited areas in China hard hit by the coronavirus. The mission was co-led by Aylward and Liang Wannian, head of the expert panel for China's National Health Commission. The team toured hospitals, health clinics and community centers to determine how the coronavirus is spreading in China.
Aylward says the pattern of family spread could be a big reason for China's apparent success in slowing the spread of the virus. Once one member of a family is infected, it's usually easy to find other family members who may have had close contact and then put them in quarantine for fourteen days. Data from China's government show that the country's coronavirus infection rates peaked in late January and have declined ever since.
Outside China, much of the spread has come from mass gatherings. On the Diamond Princess cruise ship, more than 700 passengers and crew members caught the coronavirus. More than 2,000 infections have been linked to a church group in South Korea. "It's very much driven by the context of a gathering" and how people disperse after it's over, spreading it to other individuals or groups, said Dr. Michael Ryan, executive director of the WHO Health Emergencies Program.
There is some encouraging news about the coronavirus' spread. So far, it seems to spread less easily than flu or measles. "With influenza, people who are infected but not yet sick are major drivers of transmission, which does not appear to be the case for COVID-19," said WHO Director-General Tedros Adhanom Ghebreyesus at a news conference on March 3. And the measles virus is so contagious that droplets can survive in the air for two hours.
And you should definitely think twice before kissing. French Health Minister Olivier Véran has advised people to cut back on cheek kissing, a common greeting known as la bise. Even a kiss on the cheek from a coronavirus case could leave droplets that you would breathe in.
Tips on preventing coronavirus spread at home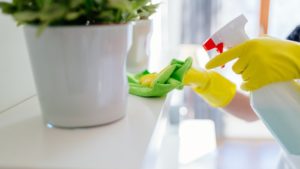 Lakdawala, the University of Pittsburgh virologist, studies how viruses spread — and what can limit them. She has some simple tips for stopping the spread of the coronavirus or any other virus at home if someone is sick:
If you're sick, don't let your droplets circulate: Cough or sneeze inside your T-shirt by pulling up the collar. If that's not an option, try to catch your droplets in your elbow or into a tissue instead.
Keep air circulating. Dispersing droplets can keep you from getting a hefty, infectious dose. Open a window; turn on a fan.
Use a humidifier. Keeping the humidity up will keep the protective membranes in your nose from drying out, which makes them less effective as they try to keep pathogens out. Mid-range humidity also appears to cause some viruses to decay faster.
Clean surfaces. Household disinfectants, such as bleach and alcohol-based cleaners, can kill the virus on tables, phones and other surfaces you regularly touch.
Don't share a cup. Don't share eating utensils. Don't share a toothbrush. In fact, don't share anything that comes in direct contact with your mouth or nose.
And of course, wash your hands. Use soap and water (or a hand sanitizer that's 60 percent alcohol), and make sure you wash all the nooks and crannies.
Sources
"Coronavirus." WebMD, 2020, www.webmd.com/lung/coronavirus#1.
"Coronavirus Disease (COVID-19) Technical Guidance: Infection Prevention and Control / WASH." World Health Organization, 2020, www.who.int/emergencies/diseases/novel-coronavirus-2019/technical-guidance/infection-prevention-and-control.
"Coronavirus Infections." MedlinePlus, 21 Jan. 2020, medlineplus.gov/coronavirusinfections.html.
"COVID-19: Control and Prevention." Occupational Safety and Health Administration, www.osha.gov/SLTC/covid-19/controlprevention.html.
"COVID-19: Medical Information." Occupational Safety and Health Administration, www.osha.gov/SLTC/covid-19/medicalinformation.html.
"COVID-19 Updates."California Department of Public Health, 20 Mar. 2020, www.cdph.ca.gov/Programs/CID/DCDC/Pages/Immunization/ncov2019.aspx.
"How COVID-19 Spreads." CDC, 4 Mar. 2020, www.cdc.gov/coronavirus/2019-ncov/prepare/transmission.html?CDC_AA_refVal=https%3A%2F%2Fwww.cdc.gov%2Fcoronavirus%2F2019-ncov%2Fabout%2Ftransmission.html.
"How to Stop the Spread of Coronavirus." YouTube, uploaded by Guardian News, 4 Mar. 2020, www.youtube.com/watch?v=3jpXAMwRSu4.
Huang, Pien. "How Coronavirus Spreads: A Cough In Your Face … Or A Kiss On Your Cheek." NPR, 5 Mar. 2020, www.npr.org/sections/goatsandsoda/2020/03/05/812570693/how-coronavirus-spreads-a-cough-in-your-face-or-a-kiss-on-your-cheek.
"Local Health Department Immunization Program Contact Information." California Department of Public Health, 29 May 2019, www.cdph.ca.gov/Programs/CID/DCDC/Pages/Immunization/Local-Health-Department.aspx.
"MHOAC Contact List." California Emergency Medical Services Authority, 11 Feb. 2020, emsa.ca.gov/wp-content/uploads/sites/71/2020/02/MHOAC-Contact-List-02112020-Public.pdf.
"Novel Coronavirus (2019-nCoV)." YouTube, uploaded by World Health Organization (WHO), 31 Jan. 2020, www.youtube.com/watch?v=mOV1aBVYKGA.
"Preliminary Guidance for Prevention and Management of COVID-19 in Residential Care Facilities for the Elderly (RCFE)." County of San Mateo, 12 Mar. 2020, www.smcgov.org/press-release/march-12-2020-preliminary-guidance-prevention-and-management-covid-19-residential-care.
"Prevention, Containment, Mitigation Measures, and Statewide Waiver for Coronavirus Disease 2019 (COVID- 19)." California Department of Social Services, 13 Mar. 2020, www.cdss.ca.gov/Portals/9/CCLD/PINs/2020/ASC/PIN%2020-07-ASC%20COVID19%20Implementation%20with%20Statewide%20Waiver%20.pdf?ver=2020-03-13-175747-783.
Scott, John. "The Economic, Geopolitical and Health Consequences of COVID-19." World Economic Forum, 6 Mar. 2020, www.weforum.org/agenda/2020/03/the-economic-geopolitical-and-health-consequences-of-covid-19/.
"Statewide Waivers for Licensing Requirements Due to Coronavirus Disease 2019 (COVID-19), and Prevention, Containment, and Mitigation Measures." California Department of Social Services, 16 Mar. 2020, www.cdss.ca.gov/Portals/9/CCLD/PINs/2020/CCP/PIN_20-04-CCP.pdf.